Queen of the South 1952, Moria McLaughlin was visited by the current Queen of the South and the Cornet's party at Lochduhar care home this week to the home to celebrate the upcoming Guid Nychburis Week..
Moria McLaughlin was was crowned Queen of the South in June 1952 on her 18th birthday and continues to wear the role as a badge of honour 70 years later.
During the visit Moira shared some special memories of her own coronation was presented with a photo of her original crowning event by Kady Kirkpatrick, the current Queen of the South. Other residents enjoyed meeting the visiting guests and cheered and waved flags to welcome them to Lochduhar.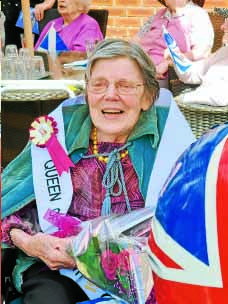 To celebrate this special occasion Moira wore her velvet cloak and sash that she wore as Queen of the South in 1952.
During her time as Queen of the South, Moira attended many functions, and visited many places around the town. Her favourite visits were always to the schools and her love of children foretold her career as a primary school teacher.
General Manager at Lochduhar, Gillian Ward said:
"It was so nice to see how happy Moira and her family were when they were sharing their special memories. Some of our other residents and staff loved being a part of this occasion as well."