EXPANDING . . . Alasdair Houston, right, executive chairman of Gretna Green Ltd., with part of the team at Gretna Hall Hotel
The 97-bedroom Gretna Hall Hotel was bought by Gretna Green Ltd., which employs around 300 people in tourism, weddings, hospitality and agriculture.
Gretna Hall, set in 10 acres of gardens, was built in 1710 and was scene of many of the runaway marriages which made the community famous.
The purchase for an undisclosed sum from a London-based property firm was confirmed this week by GretnaGreen Ltd. executive chairman Alasdair Houston.
He said: "Gretna Hall joining our family of businesses allows us to continue our work of strengthening 'Destination Gretna Green' for locals and visitors alike."
The latest acquisition follows decades of development by four generations of the Houston family with the World Famous Blacksmith Shop and adjoining visitor and retail attractions at its heart.
In a major investment in 2006 the company built the four-star Smiths at Gretna Green boutique hotel, which has gone on to win a series of awards.
And in 2014 the former Garden House Hotel, near the Scotland-England border, which had been in administration, was acquired and successfully rebranded Greens of Gretna after a £1 million upgrade.
The addition of the Gretna Hall Hotel and grounds, built as the local manor house, brings back together the original Gretna Estate, which has been in the family since 1885.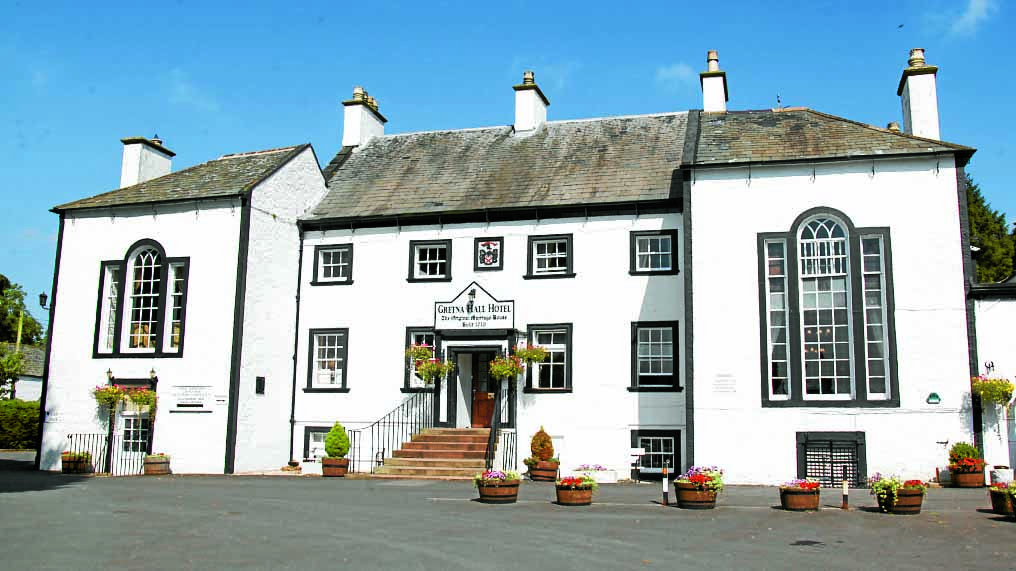 Mr Houston explained that they were looking at plans to enhance Gretna Hall, which also has a marriage venue, 'providing the care and attention it deserved.'
There was also the possibility of additional jobs in the future at the hotel, which currently employs around 55 people.
He predicted that having the community-focused management of a local family business would bring benefits to Gretna Hall after being owned by a series of national organisations.
Mr Houston, MBE, a director of auctions company H. and H. Group and a Depute Lord Lieutenant, said: "We hope to offer opportunities for existing and new members of staff to develop and join us on our journey as the business grows.
"There will be many challenges ahead but I believe that much will be achieved with a clear vision, good communication and great teamwork.
"We'll now be able to join up the stories of the Famous Blacksmiths Shop and Gretna Hall as the two historic properties in Gretna Green at the heart of the romantic history of runaway weddings."
He added: "Investment and improvements will take place gradually in a carefully planned and prioritised way."
Gretna Hall is located near the Famous Blacksmith Shop, Scotland's most visited privately-owned attraction, and Smith's Hotel.
It is also near one of the family's two farming businesses, including the Gretna House herds of pedigree Charolais and Aberdeen Angus cattle.
NEWSDESK: 01461-202417