Bars and shops across Dumfries and Galloway have started stocking premium brands to meet customer demand.
And such is its popularity that a gin club has been launched locally and met with an overwhelming response.
Organisers Karen and Brian Gibson, of TB Watson in Dumfries, decided to set up The Ginhamers tasting group after noticing increased interest in the drink among their customers.
Much to their surprise, 140 people signed up in the first month and the inaugural tasting events sold out in record time. Over three nights recently, 100 people turned up to sample different varieties and learn more.
Karen said: "Tastings will be held roughly every six to eight weeks with around six different gins to taste at each one. We are also planning on doing high teas with gin cocktails and having a pop up gin bar with approximately 30 gins available to buy."
Three years ago TB Watson stocked under 30 types of gin, but that number has nearly trebled and there's now over 80 brands on their shelves.
Some are by request, others by recommendation, says Karen, and they range in price from £14 to £85.
Gin sales have been steadily increasing over the last couple of years, with a noticeable leap in enquiries last Christmas.
Explaining the popularity, she said: "Like the rise in interest in malt whiskies, it's the small producers and new gins that are coming onto the shelves that are exciting peoples' imagination."
She added: "The most popular are the artisanal Scottish gins, although everyone has their own favourite. Around 70 per cent of the UK's gin is now distilled in Scotland."
Karen has noticed a youthful clientele coming through, saying: "There are definitely a lot of younger people enjoying gin nowadays, but we also find that that the older gin drinkers are now wanting to experience new gins and to join in the gin revolution.
"Our customers are fairly varied, but there are many new gin drinkers and while women predominate, there are also many men enjoying it too."
Many are on a quest for the perfect gin, she revealed: "Customers are all very aware of what makes their gin perfect and love to find the 'perfect pour', be it with lemon/lime, orange, blueberries or cucumber."
At Smith's Hotel in Gretna Green, bar tenders have also noticed the rise in popularity.
Susan Knox said: "We're seeing more people asking for gin. We seem to serve more gin than before to corporate clients and also ladies who are lunching along with cocktails."
Landlord of the Black Bull in Lockerbie Ian McLatchie agrees. He said: "It started at the back end of last year with a lot more people ordering gin and tonics."
Catering to customer demand, he has stocked up with some special gins, all Scottish made.
Ian explained: "We carry 10-12 speciality gins now. People want to try the premium ones because they have heard about them.
"And we find people are prepared to spend more on gin. I've noticed there's lots of lads drinking it now, it used to be they went for vodka, but they like the fact this is a prestige drink."
Commenting on local tastes, he added: "The majority like it with lime, but they do know what they should be having in which gin- lemon, apple, orange or cucumber. They seem educated gin drinkers."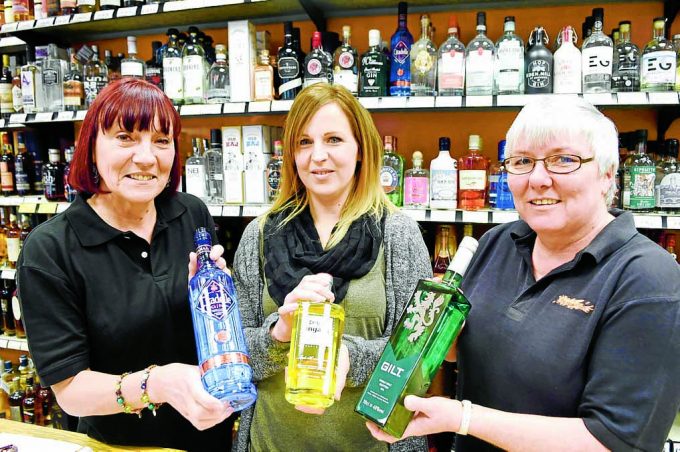 TOP TIPPLE . . . Janice Dobie, Amanda Varcoe and Christine Oliver show off some of the gin selection at TB Watson
WE'VE been putting the BE tastebuds to the test and trying out a few gins – some well known, others less so.
1. Bloom Gin & Rose Lemonade: This pretty in pink ready mixed drink went down well and was considered light and refreshing by our testers. They noted a slight Turkish Delight taste and said it hit the right mix of sweetness, without being too sickly. There was unanimous agreement that it was definitely a summer drink.
2. Berkeley Square: At 46 per cent proof, this was the strongest gin on the panel and everyone agreed it was easy to spot that it was a quality brand. Packed with flavours, they picked out lavender, lime and a bouquet garni of botanicals, which developed on the palate. Described as a sipping gin, half our panel enjoyed it served neat, saying it was smooth with a pleasing aftertaste. But, others found it too powerful, even with the addition of tonic.
3. Greenall's Wild Berry Gin: A mixed reaction for this gin with all tasters enjoying it, but saying one glass sufficed. The berry flavour was deemed subtle without being overpowering, something our testers appreciated. They were split over whether it was better with tonic, lemonade or neat- with one recommending slices of strawberries as a garni to further bring out the taste.
4. The Co-operative Special Dry London Gin: An affordable and everyday gin, that got the thumbs up from everyone. Although our testers said it did not have the botanical mix of more premium brands, they all found it easy to drink and with a pleasant taste. One said: "It's not an all-singing, all-dancing gin, but it does what it says on the tin and easily holds it own against the household names."
5. Stirks Aged Gin: The golden colour of this spirit intrigued our tasters and it was the one that attracted the biggest attention. Stirks has been aged in whisky casks and has taken on those flavours and the same hue. It proved a big hit with the older panel members who enjoyed the honey flavour and praised the subtle whisky backdrop. However, the younger drinkers were less sure and preferred to stick to more traditional gins.