2.36 – WITH the votes from all 12 wards within Dumfries and Galloway counted, it is the Scottish Conservative and Unionist Party with the most councillors — standing at 16.
And the Conservatives secured the first preference vote in every ward in the region, and also topped the total polls in 11 of the 12 wards.
Tied for second are the Scottish Labour Party and the Scottish National Party with 11 councillors each, four independents and a single Scottish Liberal Democrat.
But with no single group commanding an overall majority across the 43 seats, the question now is who will form the next Dumfries and Galloway Council administration, which has latterly been a minority Labour administration.
2.14 pm – INDEPENDENT councillor Willie Scobie is the only returning face in the newly named Stranraer and the Rhins, which has been expanded from three seats to four.
Joining him are Conservative Andrew Giusti, Labour's Tommy Sloan and the SNP's Ros Surtees.
Independent Marion McCutcheon was unsuccessful in a bid to retain her seat, while the SNP's Iain Dick was not seeking re-election.
Unsuccessful candidates also included Chris Collins of the Scottish Libertarian Party, independent Tracy Davidson and independent Robert McCrae.
2.06 pm – THE MERGER of two wards to create a four-seat Mid Galloway and Wigtown West has seen two familiar faces returned to the council.
Independent Jim McColm and Conservative Graham Nicol were the only councillors from the original wards seeking re-election, and will now be joined by Conservative David Inglis and the SNP's Katie Hagmann.
Original Wigtown West councillors Grahame Forster (unaffiliated), Roberta Tuckfield (Conservative), Jim McClung (SNP) and Mid Galloway's Alistair Geddes (SNP) did not seek re-election.
The unsuccessful candidates were Barbara Bannatyne (Scottish Green Party), Matthew Curry (Labour), John McCutcheon (independent), Steve Norris (SNP) and Richard Oxley (independent).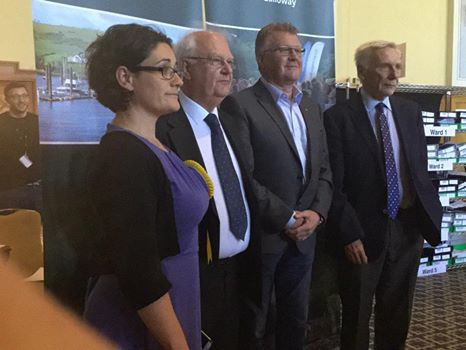 1.51 pm – CONSERVATIVE Patsy Gilroy and independent Jane Maitland have retained their seats in the Dee and Glenkens ward — against a wide array of competition.
A total of nine candidates had pursued the three seats, with the third now being filled by Dougie Campbell of the SNP. Independent Colin Wyper had not sought re-election.
The unsuccessful candidates were independent Andi Holmes, Elizabeth Maxwell of Labour, Andrew Metcalf of the Lib Dems, Laura Moodie of the Scottish Green Party, independent Douglas Swan and John Thom who was running unaffiliated.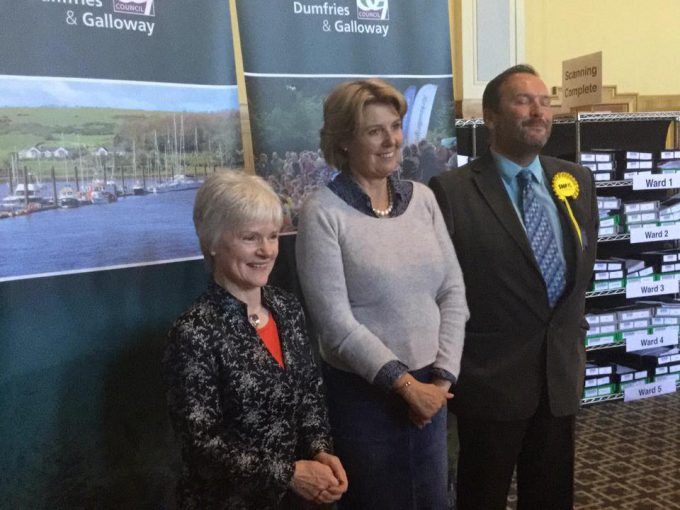 1.41 pm – IT'S all change in the newly named Castle Douglas and Crocketford Ward, with a fresh batch of councillors.
Iain Howie is the first independent to be announced as a councillor in today's election results, and takes a seat alongside fellow incomers David James (Conservative) and John Lachlan Young (SNP).
Independent George Prentice lost his seat, while the SNP's Brian Collins and now serving Conservative MSP Finlay Carson did not seek re-election.
In addition to Mr Prentice, the unsuccessful candidates included Lucy McKie for Labour and Paul Taylorson for the Scottish Green Party.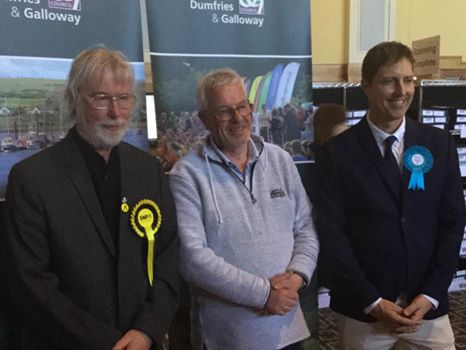 1.22 pm – VETERAN councillor Tom McAughtrie was the one to lose out in Abbey Ward — as the number of seats was reduced from four to three.
Having served for Labour but been required to stand in this election unaffiliated, Mr McAughtrie lost his seat while Davie Stitt (Labour), Ian Blake (Conservative) and Rob Davidson (SNP) retained theirs.
Other candidates standing in the ward were independent Belle Doyle, the SNP's Kim Lowe and the Scottish Green Party's Clare Phillips.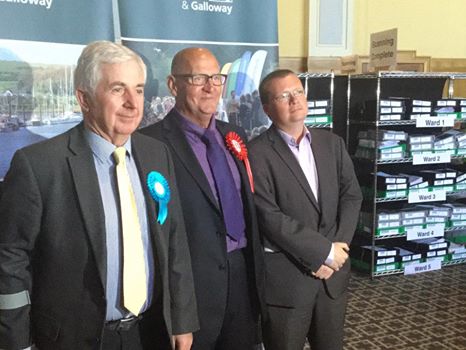 1.05 pm – THERE is no change in North West Dumfries, with all four sitting councillors successfully re-elected.
Serving Council Leader Ronnie Nicholson is back for Labour along with David McKie, while Graham Bell is re-elected for the Conservatives and Andy Ferguson is back for the SNP.
The unsuccessful candidates were Stacy Bradley for the SNP, independent Billy Farries and Michelle Johnston of the Scottish Green Party.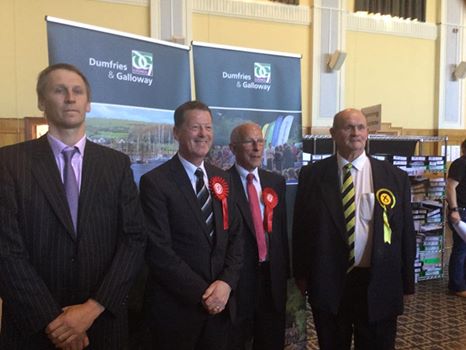 12.52 pm – LONG-STANDING Labour councillor John Syme has lost his seat in the Mid and Upper Nithsdale Ward.
With the ward being reduced from four seats to three, Labour's Jim Dempster is re-elected as a councillor, the SNP's Andrew Wood returns, and they are joined by new councillor Matthew Ronnie for the Conservatives.
The other unsuccessful candidate was Graham Watson, who was running unaffiliated.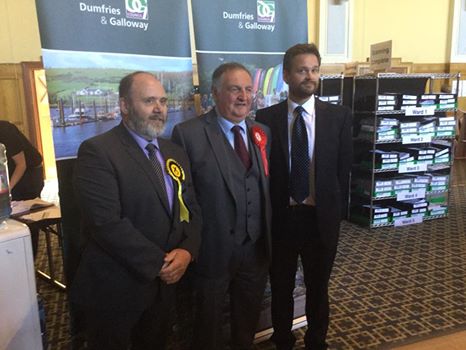 12.35 pm – A CONSERVATIVE gain has been announced in Lochar Ward, with former Westminster candidate John Charteris making his return as a councillor, joining Ivor Hyslop who has successfully retained his seat.
Jeff Leaver retains his seat for Labour, while Tracey Little is newly elected for the SNP.
Having been elected for the SNP, Yen Hongmei Jin was unsuccessful in her bid to retain her seat as an independent, and Labour councillor and Provost of Dumfries Ted Thompson had not sought re-election.
Candidates had also included independent Maureen Johnstone, Joe McGurk for the SNP, Arthur Ramsay for the Scottish Green Party and Keith Walters for Labour.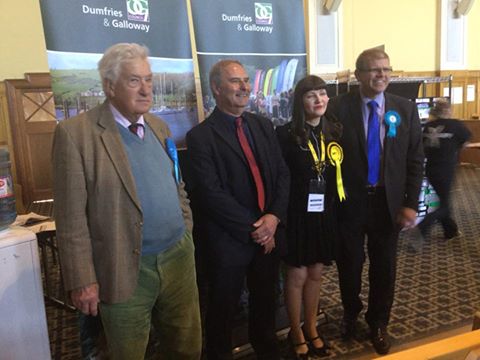 EX-Labour MSP Elaine Murray has won a seat in the Nith Ward.
Labour's John Martin is the only councillor in the ward to be re-elected, with two further new councillors in the form of the Conservatives' Malcolm Johnstone and the SNP's John Campbell.
The SNP's Alastair Witts was unsuccessful in a bid to retain his seat, while independent Jack Groom and Labour's Colin Smyth, now an MSP, had not sought re-election.
Other candidates had included independents Niall Cowan, Andrew Crosbie, John Dennis and David Slater and Sandy Rogerson of The Scottish Green Party.
Outgoing councillor Alastair Witts said just before the declaration: "All politics ends in failure."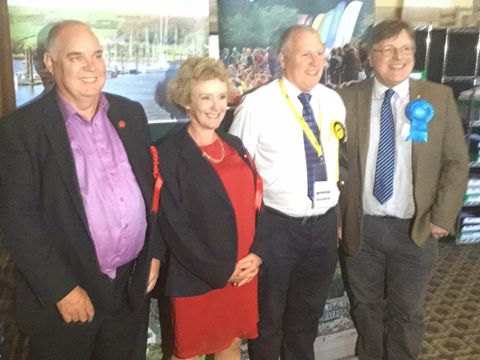 11.41 am – THE SNP have taken a seat from Labour in the Annandale South ward.
Annan Athletic chairman Henry McClelland was one of four councillors elected, with Richard Brodie (Lib Dems), Ian Carruthers (Conservative), and Sean Marshall (Labour) all re-elected.
Losing his seat is Labour's Ronnie Ogilvie.
Peter McKain of the Scottish Libertarian Party and independent candidate Allan Weild were both unsuccessful in their bids.
11.38 am – A 21-YEAR-OLD university student has been elected as a Labour councillor in the Annandale North ward.
Adam Wilson was elected alongside returning councillors Doug Fairburn (Conservative), Stephen Thomson (SNP) and Gail Macgregor (Conservative).
The Conservatives' Peter Diggle had not sought re-election.
Lisa Courts from the Scottish Liberal Democrats did not succeed in her bid for a seat.
11.30 am – INDEPENDENT councillors have been squeezed out in the first results to emerge from the Dumfries and Galloway Council elections.
Annandale East and Eskdale was the first to declare, with the existing four seats in the ward having been reduced to three.
Retaining their seats are the Conservatives' Karen Carruthers and Labour's Archie Dryburgh, joined by new Conservative councillor Ronnie Tait.
Independent councillors Craig Peacock and Denis Male both lost their seats, with the latter standing independently after having failed to be re-selected as a Tory candidate.
And the SNP's Sylvia Moffat did not succeed in her bid for a seat.
The turnout in the ward was 51 per cent.