The Carrutherstown-based six-year-old gelding was at the right end of the 23 finishers in a thrilling climax to what is one of the world's premier flat races, held at Australia's Flemington race course.
With veteran South African-born jockey Glyn Schofield on board, 20/1 shot Nakeeta achieved the trainer's target of a top-ten placing, which delivered £102,000 prize money.
The thoroughbred was the first Scottish-trained horse to take part in the race, which attracts crowds of more than a 100,000 and was screened worldwide on TV.
Among the crowd were owners Alex and Janet Card from Deal, Kent, and several Hetland Hill Stables staff and other Dumfriesshire supporters.
Commenting from Melbourne, Ian Jardine said: "We are over the moon. He ran a huge race, particularly considering he was out off stall 19.  When you look at the draw statistics, we are sure we would have been in the top three had we had a better draw. The first four horses were all drawn sub-six."
Nakeeta will spend around six days in Australia before being flown back to the UK.
Ian and his team have been monitoring the horse's post-race condition, such as re-hydration, and so far assessed him as being in top form.
After the 36-hour return flight Nakeeta will spend a couple of days at Newmarket before heading north to Carrutherstown where he will have a lay-off lasting at least three months.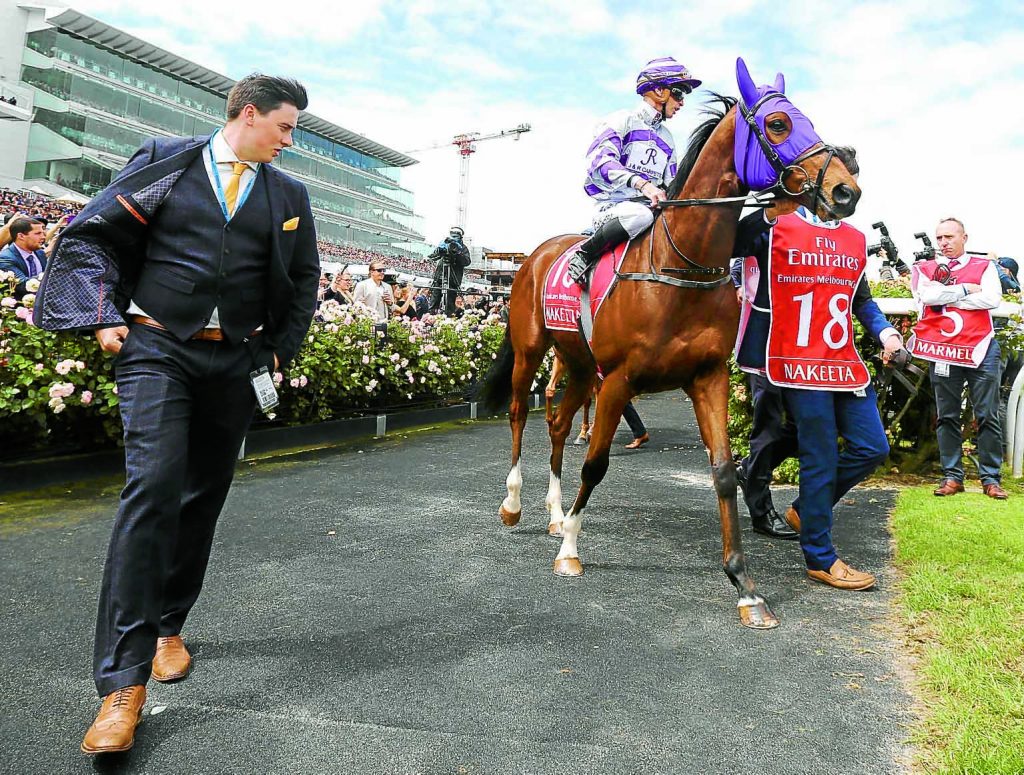 Ian's partner Val Renwick, who also looks after the administrative side of the stables, watched the race on Channel 415 'At the Races' TV along with other Hetland Hill team members about to start their dawn duties on Tuesday.
She said: "We will party once the rest of the team are back from Australia and Nakeeta has his feet back safely on Scottish turf."
The Australian success should stand the Carrutherstown operation in good stead for the future.
Iain said: "Hopefully it will bring us additional owners and help increase the calibre of horse we have in the yard.
"We are fortunate to have lovely owners and good, consistent horses to train at the moment but we are always looking to increase the standard. We want to be competitive in all the big Saturday handicaps."
And when will Nakeeta next be seen in race action?
Said Iain: "He will tell us through his condition when he's ready.  Probably not before June, 2018.  We are slightly forced to aim him at listed races now.  He will not be seen on the track too often. Melbourne 2018 is not out of the question."
Iain and Val praised owners Mr and Mrs Card and believed that the prize-money should help them break even on the financial outlay involved in the logistically complex Australian trip.
Said Val: "How can you put a price on the opportunity of a lifetime with a little horse they bought to enjoy as a hobby."
Nakeeta's performance has seen the Carrutherstown yard flooded with good wishes since the race.
"It's been overwhelming. People are so kind. Nakeeta is a 'people's horse' as he's tiny with a big heart. He is building a big fan base," added Val.

SPORTSDESK: 01461-202417