Louisa Briggs, from Lockerbie, and partner Bradley Graham are enjoying sea and sand in Fuerteventura with her daughter Amelia; while Annan couple Laura and Jay Vickers and their daughters, Ava and Sian, are in Andalusia.
Both were shocked at the UK Government's sudden decision this week to require UK travellers returning from Spain and the Canaries to self-isolate for 14 days.
The Vickers were due home next week, on August 7, in time for the schools returning.
However, they have now moved that to a week later in the hope that the new rule will be lifted by then.
Laura said: "It was a shock as it had just been relaxed for nearly a week then reintroduced with six hours notice. We were disappointed to hear the news but will follow the rules on our return."
Despite the change of plans, the family have had a relaxing stay with safety measures in place.
Laura added: "Spain made it mandatory for masks to be worn at all times with the exception of sitting down at cafes/restaurants to eat and drink and for exercise.
"It has been okay adapting to always having a mask but it does feel somewhat safer that all are wearing one and you are uncomfortable when you are close to people who are not wearing one. We have been able to social distance ourselves with people quite easily.
"Restaurants, cafes and bars are also generally all open, barring the ones that have not financially made it through, and there are a number of them, so the holiday has not been a whole lot different from previous visits."
Laura – who is a disability development officer for Dumfries and Galloway council – and husband Jay have been working from home during the coronavirus pandemic and have continued to work throughout their time in Spain as well as taking annual leave.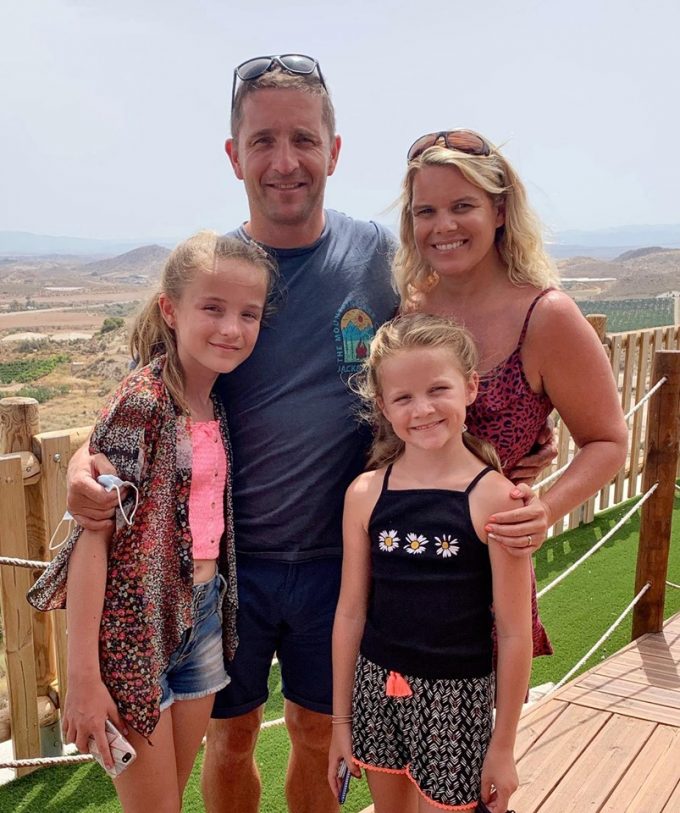 Their holiday this year has been a tad different but one that Laura says the family "won't forget".
"However, we have still managed to have some fun at the water park, beaches and catching up with family and friends in Spain," she said. "We are constantly monitoring the situation and wouldn't hesitate booking a flight home earlier if necessary."
Meanwhile, Louisa and Bradley only arrived in the Canaries last Thursday in a last minute deal.
She said: "We feel absolutely fine about returning home and having to quarantine, a holiday at home after a holiday abroad sounds perfect.
"The resort is just as 'normal' as any other holiday we've had, except we are all wearing masks now.
"The children are enjoying themselves and it's been a relaxed break."
Commenting on the situation, Gary Jardine, retail manager at Border Travel in Dumfries, yesterday said: "We had a few people who flew out to Spain last weekend and who will have to quarantine when they return, which is obviously going to be very difficult for most people. The timing of it all coming in to effect and the number of changes to the regulations made a rescheduling of plans very difficult to reorganise."