WEBSITE . . . reader and local photographer Graham Edwards with reporter Amanda Kennedy
Today DnG Media sales and marketing director Graeme MacGregor and reporter Amanda Kennedy visited the shopping hub to speak to readers and help them get to grips with the newspaper's sister website DnG24, which was launched this year.
Dumfries and Galloway readers from as far a field as Dalbeattie, Springholm and Borgue descended on the shopping centre to pick up their free Courier – with some picking up extras for friends, neighbours and even community groups.
Courier fans were navigated through the new site, which is updated daily, and shown how to add the site as a home page icon, or app.
Loreburne Shopping Centre's general manager Jim Ireland says the Courier pick-up point has become a popular feature of the shopping centre and he believes many Courier readers have worked picking up a copy into their weekly schedule.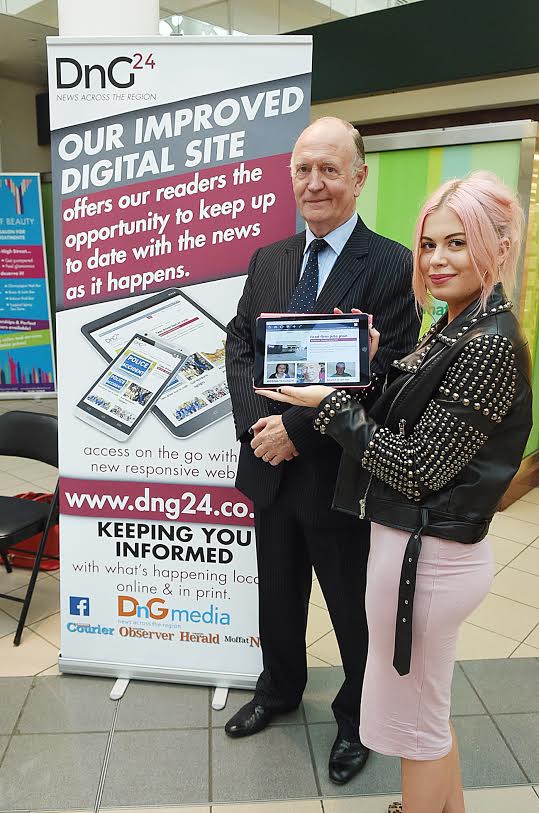 LOREBURNE . . . reporter Amanda Kennedy with Loreburne Shopping Centre's general manager Jim Ireland
As many as 1500 Couriers are dropped off at the Loreburne Centre weekly and by Monday few, if any, are left over.
Mr Ireland said: "The Courier pick up is really working, it's very popular.
"It's positive for us as people are coming in specially to pick up a paper and then sticking around to visit shops and it's also good for the paper as our customers, who might live slightly out of Dumfries, are able to pick up a copy for free and read a paper they otherwise might not have seen."
Meanwhile the Loreburne Shopping Centre have also introduced free wifi for all their customers, perfect to help shoppers enjoy the best of DnG24.co.uk.