Last Tuesday Lockerbie publican Ian McLatchie, his wife Penny and four-year-old daughter Freya were gobsmacked when they discovered two young pups dumped on the Moffat to Selkirk Road.
The puppies, believed to be Jack Russell crosses aged around 10 weeks, were left to fend for themselves with nothing but some scraps of wet newspaper and an unopened tin of dog food.
The family rushed the young dogs to Ark Veterinary centre before sharing their horrible discovery on social media.
A week on both pups have found a new loving home.
Jon Muir's heart broke when he saw good friend Ian's post and he quickly formulated a plan to bring one of the pups home as a surprise for girlfriend Leigh's birthday.
The Lockerbie man said: "We had both seen the Facebook post the night before and couldn't believe someone could do that to something so small, cute and innocent.
"Leigh had suggested adopting one of the puppies so I went behind her back and arranged it with Ian to tell her they were both gone and organised Ian to bring the pup to my house that night as a complete surprise to her, with it being a couple of days before her birthday – the perfect early birthday present."
The couple have named their puppy Stitch and say he is settling in well.
Meanwhile, Stitch's sister has been named Joyce and has gone to live in Dumfries with Tracy McConnell and her daughter, Eden.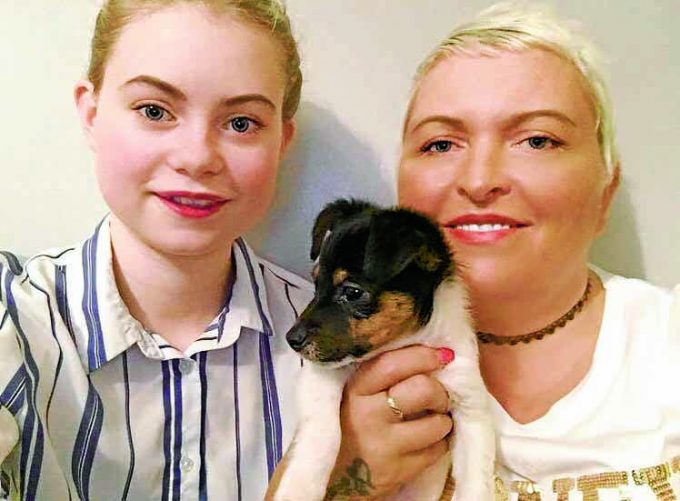 Smitten Tracy said: "I couldn't believe anybody could just throw her or her brother away like trash.
"We have named her Joyce after my mum as she passed away recently.
"Eden and I love her and she's turning into quite a wee character considering her bad start."
Delighted that both pups have found a happy home, rescuer Ian said: "So happy about the puppies. I've been in touch with both sets of new homes and the doggies are doing fab and being very spoilt."