A MUM-of-three is getting ready to saddle-up for a colossal ten hour cycling challenge to raise money for the hospital where her little boy received open-heart surgery — one year on from his operation.
Jenna Whalen, 35, from Dalbeattie, will climb aboard her exercise bike and embark on a 100-mile ride on March 13, which will mark 12 months to the day since Josh, just one year-old at the time, had the life-saving treatment at the Royal Hospital for Children in Glasgow.
And in an incredible twist of events, history will repeat itself — as Jenna herself had major heart surgery when she was only two, which prompted her mum to hold a fundraiser 33 years ago.
"He kind of followed in my footsteps unfortunately," said Jenna, who is a teacher at Dalbeattie High School. "I don't remember anything about my open heart surgery, but I remember it this time around because it's my wee boy that it's happened to.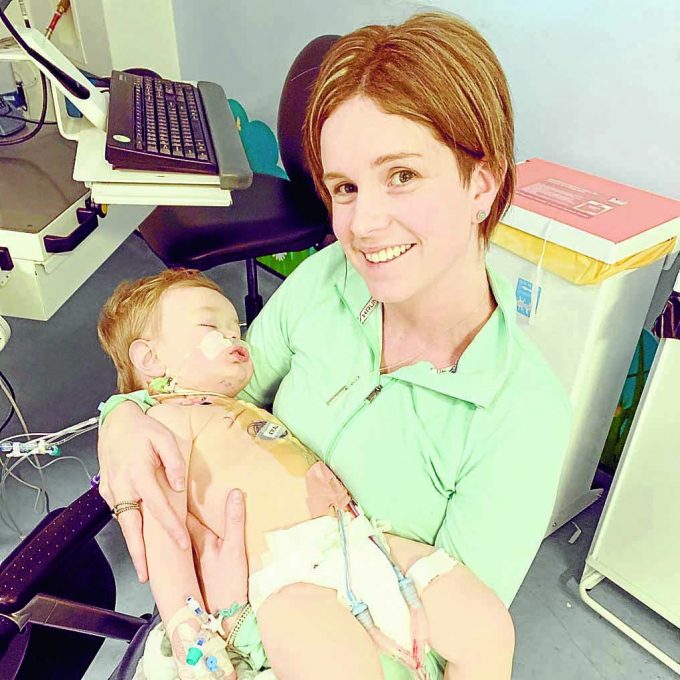 "I had the one surgery and wasn't discharged until I was 18 and then Josh will probably follow a similar path. I'm hoping he won't need any more surgeries, but he just needs to be monitored closely over the next few years."
She added that her and husband, David, put their "whole trust" in the surgeons, and that the couple had been pondering on how to thank them since the successful surgery last year.
"Then we bought this Peloton bike," Jenna said, "which is like a spinning bike with a screen attached to it and it does online and live classes, and so one night I just thought maybe I could do a challenge on it.
"I would usually go on it for maybe half an hour, 45 minutes and in that time I can do between ten and 12 miles, but when I do the sponsor I won't be going as fast because I'll need to pace myself.
"On the day I'm hoping my husband will still be home to entertain the kids, if not they'll go down to their granny's because there's no way I could stay on the bike that long with them.
"I've got three older brothers and they've all got a Peloton bike as well and you can put your video camera on so I think my brothers and sisters in law are going to get on their own bikes at various points in the day as well."
Originally setting-out to raise £500, the target was soon smashed once her fundraising page was set up.
"I'm already at about £2000," she added. "I think I'll keep the target at what it was and I'll be thankful for anything higher — I've been totally overwhelmed to be honest."
Keep track of Jenna's progress and donate by searching for Jenna Whalen at www.justgiving.com.