The 36-year-old hit a tremendous strike from 25-yards which proved to be the winner at Dens Park last Saturday.The goal was another career highlight for the Dumfries-born player, nearly ten years to the day that he featured against Manchester United for Crawley Town at Old Trafford.
Gibson said: "Without a doubt that strike was the best of my career. It's the fact it was with my left foot, I've not scored too many better with my left foot.
"In the first half I was an outlet and getting on the ball and linking the play with Euan East on the right-hand side.
"The game was quite open at times, I saw the space to run into and when Charlie Adam came across to press me, I just thought move the ball slightly and try and take him out of the game. I burst forward and I only had one idea in my head and that was to get my shot away.
"I said to the boys after the game that I probably should've done better with a chance I had ten minutes earlier which was on my stronger foot. But with the goal I scored, I couldn't have hit it much better.
"It was actually Tommy Goss who said to me that it had been coming as I was scoring goals for fun in training.
"I think the goal was quite fitting to celebrate ten years since I played at Old Trafford with Crawley Town. That was probably one of my career highlights and to still be doing what I love is an achievement."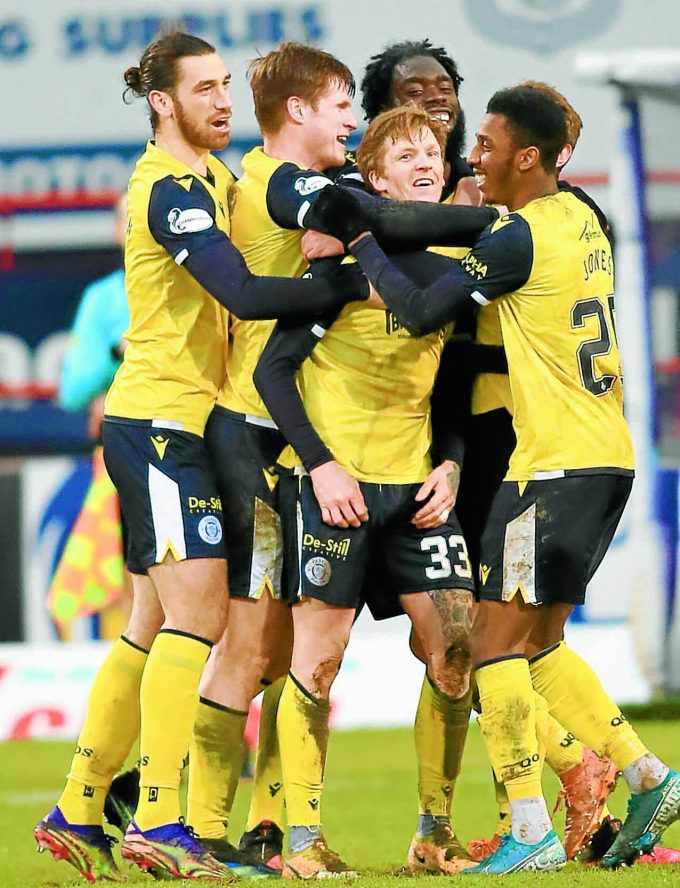 Many eyebrows were raised when the Doonhamers signed Gibson on as a first team player during the close season.
But the ex-Kilmarnock winger has played nearly every match this season in a new position and has proved his doubters wrong.
A number of Queens supporters flocked to social media after their 3-2 victory at Dundee and said the Dumfries man has been their player of the season.
Gibson said: "I've had doubters my whole career and had plenty of doubters this season when I signed. I just keep proving them wrong with each performance. I work hard and I'm willing to do that bit extra.
"I've settled in and I know my role now. I can see the bigger picture and help the team. I feel comfortable there.
"I didn't see myself playing every week at full back. When I spoke to the manager in the summer, I told him that during lockdown I worked really hard to get fit and I had the ability to play at Championship level.
"I feel I belong at full-back now. To begin with I was happy to do a job at right back, but now I understand the position more and where I should be off the ball. At the start of the season, I think I was more looking at the attacking side of things and the gaps between myself and centre backs were a bit too big and getting caught out."
Gibson admits Queens' run of form of six wins, two draws and a solitary defeat has been incredible with the Palmerston outfit now sitting fourth in the table and in the Championship play-off places.
"The bigger picture is for Queen of the South to prove the doubters wrong not just me. Everybody wrote us off at the start of the season and three games in. They had us relegated, they had us down as worse than Brechin City who didn't even win a league game.
"It has been a big transformation since our last game against Dundee on Boxing Day. We've tightened up at the back and we are putting away chances from all areas of the team now.
"We've put in a lot of time on the training pitch working on certain things and it is starting to show now. Hopefully from now to the end of the season it can continue and reflects on the pitch."
Gibson — who is also the side's reserve manager — will go toe-to-toe on Saturday with his former side Dunfermline, where he spent two-and-a-half years as a player.
He believes the side will be full of confidence ahead of their tussle at Palmerston Park on Saturday.
"Performance wise I hope we can continue the way we've been playing. When we played them earlier in the season, we gave them too much of a head start. We shot ourselves in the foot that day.
"Hopefully we can turn the tables this time and get three points. They've been comfortably in the top four all season but it is very tight. If we win we go three points behind them."