AN INCIDENT which left two huge cranes on their sides on a road near Carsphairn has sparked fears that the region's infrastructure is not fit to handle ongoing windfarm developments.
Two five axle cranes weighing a combined 360 tons were driving on the B729 toward the Windy Rig Wind Farm at around 7 am on Monday, February 22.
The vehicles were four miles apart on approach to the site's entrance when the verges of the carriageway collapsed, resulting in both machines toppling over.
Police officers were called to the scene but no other emergency services were required as no injuries were sustained.
Both cranes remain by the road awaiting recovery.
The Birmingham-based King Lifting, from which the apparatus was hired, said it is "currently in the process of carrying out investigations to establish the root cause of road collapse".
A statement from Windy Rig's Norwegian developers, Statkraft group, said there is "no immediate threat to other road users or the environment in the area".
It added: "Following the incident, we have suspended all turbine component deliveries to the site. A plan for the safe removal of the vehicle is being made. In the meantime, traffic can use the road as normal, and we do not anticipate any disruption to local road users."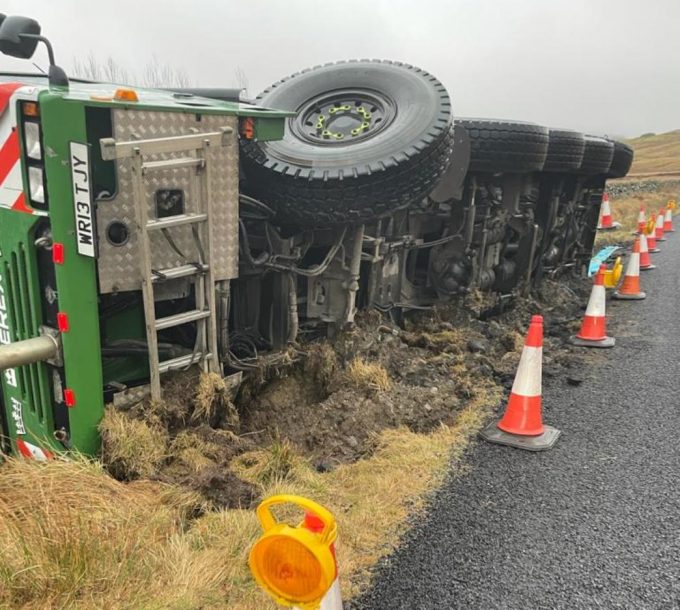 Improvements on the road are believed to have been carried out last summer, however the specialist website for the crane and lift industry Vertikal speculated that the quality of work "looks questionable when it comes to the heaviest vehicles".
It said the route was "treacherous", but added that the cranes in question were "not stripped down to their lowest possible transport weights".
Local anti-windfarm group Save Our Hills called the incident a "fiasco" and blamed it on an excess of "unacceptable planning applications" granted by the council.
In a statement, Save Our Hills spokesman Iain Milligan said: "People in Dumfries and Galloway are used to giant windfarms spoiling the landscape.
"Now the vehicles being used to make them are ruining the roads too.
"This crash has been a complete fiasco, and just shows again why the area is unsuitable for repeated large-scale windfarm development.
"This accident happened more than a fortnight ago, yet still these giant cranes lie at the side of the road.
"Local people are furious that this has been allowed to happen.
"If the government and council were more prepared to stand up to these developers and their unacceptable planning applications, incidents like this wouldn't happen."
Police Scotland said: "It appears the road gave way and both cranes toppled over off the road. The cranes were about four miles apart when they came off the road. The company were arranging for their own recovery."
Dumfries and Galloway Council were approached for comment.