The Scottish Diaspora Tapestry exhibition is taking place in The Border Kirk in Chapel Street, Carlisle and was opened last week by the Mayor of Carlisle, Councillor Trish Vasey.
It has gradually expanded since being originally created in 2012 to celebrate the influence of Scotland in countries across the globe, partly through migration.
More than 100,000 people, many of Scottish ancestry, have viewed the tapestry during several overseas tours, including to Australia, New Zealand, Asia, America and western Europe.
Having expanded from the original 150 panels to 305 more than a thousand skilled stitchers, in 35 countries, have contributed to the artwork.
The project has been co-ordinated by Scottish artist Andrew Crummy supported by Gillian Hart and Yvonne Murphy of the Prestoungrange Arts Festival where the project was conceived.
Despite being in England, the city centre Border Kirk, which also has a sister congregation in Longtown, is part of the Presbytery of Annandale and Eskdale.
The minister, the Rev. David Pitkeathly and his kirk session and elders were delighted when their invitation to host the display was accepted.
Learning more about the lives and contributions of famous Scots has proved of great interest to some of the 50 million people globally who can claim Scottish ancestry.
Border Kirk elder Christine Mountain, who helped organise the exhibition, described the tapestry as 'fascinating and very informative.'
She said: "We have all been looking forward to having it in Carlisle and feel very privileged that it has been allowed to come to the Church of Scotland in the city."
The exhibition is open daily from 10.30 am to 3.30 pm and on the final day, this Thursday (March 15), will remain open until 8.00 pm.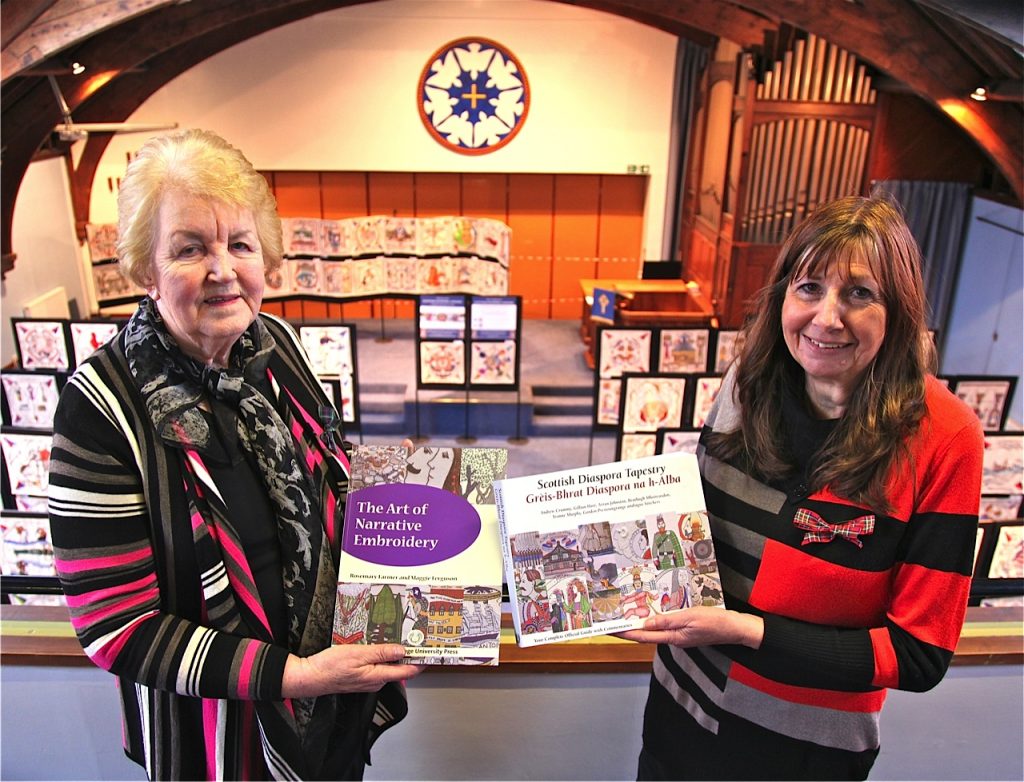 GLOBAL INTEREST . . . Border Kirk elders Christine Mountain, left, and Pat Edwards were part of the team which brought the Diaspora Tapestry to the Presbytery of Annandale and Eskdale
NEWSDESK: 01461-202417