PRIDE OF SHOW . . . trophy winners at Gretna Festival Dog Show on Saturday, front, left to right: Kirsty Green, Marilene Evans, Nikki Wainwright and Leah Davison.
Back: Linda Ellwood (judge), Eleanor Ellwood (judge), Lelan Vogt and Julia Carlson
---
Her eight-month-old Chihuahua 'Norman' was best in his section at the Gretna Festival Dog Show on Saturday.
The cute canine was so small he proudly sat in the trophy after the presentations.
Kirsty, who lives near Moffat and is a member of Annandale Canine Society, said: "I'm thrilled. He's a lovely wee dog and although he's still a pup I do not expect him to grow much more.
"I work in a care home and when I take him in to see the residents they absolutely love him."
There was a good entry at the show held in the border town's Richard Greenhow Centre.
Secretary Jane Power said: "It's been a great day with some excellently turned out dogs. We ran the show as part of the Festival in conjunction with Annandale Canine Society."
The main trophy winners were:
Best in show – Nikki Wainwright with Rottweiler called Ollie.
Reserve best in show – Marilene Evans, Skye Terrier.
Best puppy in show – Kirsty Green, Chihuahua, Norman.
Best puppy – Leah Davison, British Bull Dog called Puma.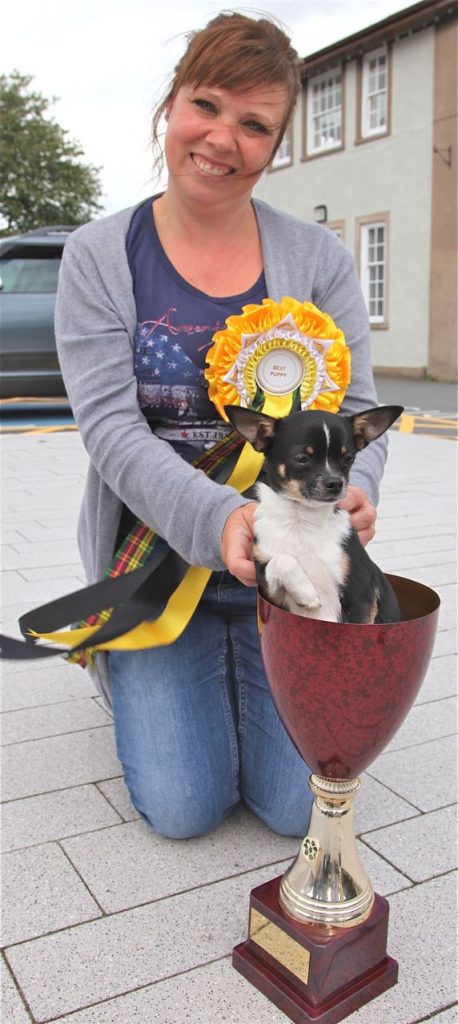 STAR PUP . . . Kirsty Green with her trophy-winning Chihuahua
NEWSDESK: 01461-202417