There was particular attention on the Whitesands at Dumfries, pictured above on Saturday night, where the car park was being closed during high tide periods and a flood plan was in operation. The river spilled over on to the car park at lunchtime on Saturday and at night.
Rivers across the region were at extreme high levels and officials were also concerned about the level of the Esk at Langholm, Liddel Water at Newcastleton in Scottish Borders and the Esk in the Longtown area in Cumbria.
HM Coastguard teams from across the region were called out and were standing by at locations at greatest risk of flooding.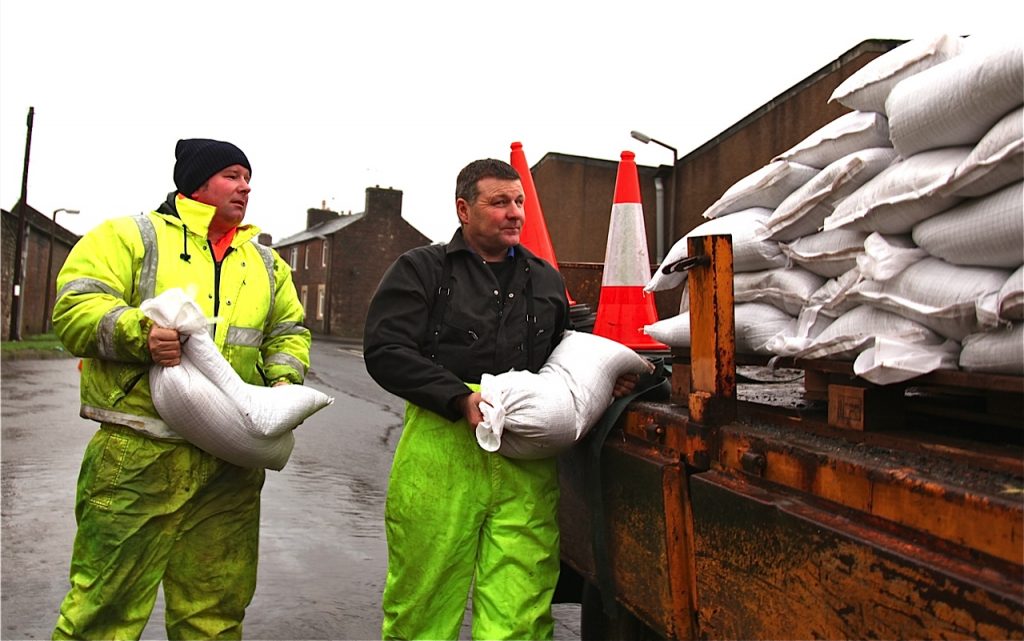 ANNAN ALERT . . . Neil Irving of Dumfries and Galloway Council and contractor Mark Wilson prepare a stockpile of sandbags in Annan's harbour area
Dumfries and Galloway Council have been making sandbags available at some locations, including Langholm and Annan's harbour area.
The Everholm Park at Annan, a flooding hotspot, was again under water and the river burst its banks in a number of other areas, including south of the road bridge.
Fallen trees on Saturday caused disruption to traffic on a number of roads including the A701 south of Moffat and on the A7 at Langholm.
Agencies urged the public to be aware of the potential risks when travelling and issued warnings to residents in flood-prone areas.
There were reports of some rural householders in Mid Annandale moving valuables upstairs as a precaution against flooding.
The Scottish Environment Protection Agency (SEPA) issued a statement on Friday evening warning of the expected deluge in the region.
It read: "Sustained heavy rainfall is expected to cause significant flooding. Rivers will rise during Friday night and stay high throughout Saturday.
"Flooding from rivers, small watercourses and surface water is expected.
"The eastern part of the area is most at risk. Disruption to travel and some property flooding could occur."
Meanwhile, further east, sandbags were being put in place at the village of Newcastleton and other low lying parts of Liddesdale.
SEPA stated: "There is a risk of flooding to low lying properties and playing fields in Newcastleton from Kershopefoot to Sandholm.
"There is also a risk of the drainage system backing up which may impact South Hermitage Street."
And on Sunday distribution of national newspapers was disrupted with only very limited supplies of certain titles in parts of Dumfries and Galloway and Cumbria.