Primary teacher Neil Armstrong, 54, recently launched Strong Maths and the programme SAMSON, dubbed as a 'revolutionary change in teaching' the subject.
Explaining his invention, which has taken five years to create, he said: "SAMSON is an acronym for speed, accuracy, mastery, self testing, overlearning and numbers. SAMSON is one of the characters in the programme who helps bring the numbers to life for children."
Neil, who is depute head teacher at Annan's Newington Primary, says he was moved to create the programme following an apparent fall in standards and low attainment, especially in mental maths, around five years ago.
He said: "I hoped to put together materials that would make children more confident at mental maths but also something that was easy for all teachers to deliver-which would result in maximum impact for little preparation.
"The inspiration for it came from a Bruce Springsteen song called Wild Billy's Circus Story which is a story about the circus with incredible detail and interesting characters."
SAMSON is aimed at primary schools but Neil says older learners in S1 and S2 could also benefit from it. So far the programme has been introduced to Neil's own school, Newington, and has been bought by Annan cluster schools.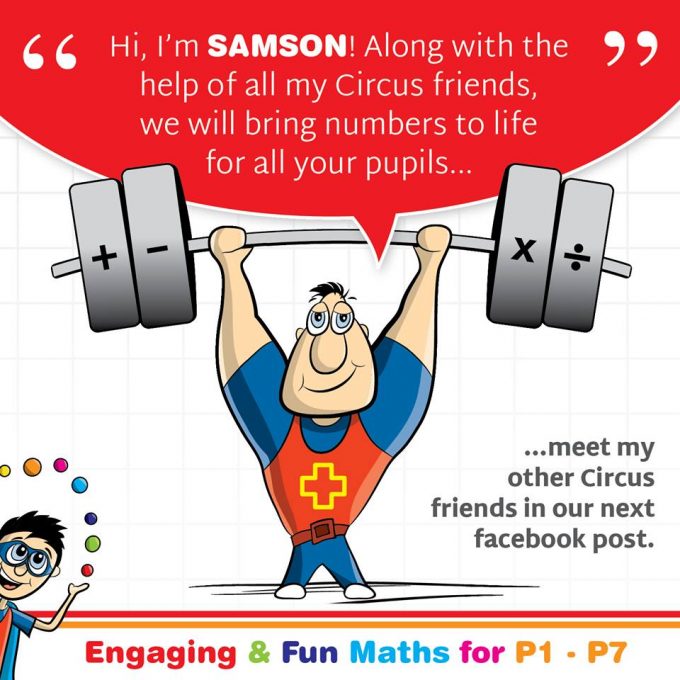 Explaining it in further detail, he said: "The key features of SAMSON are it's developmental, it is a structured and systematic programme for P1 to P7; it involves the teacher teaching, it is fast paced and fun but with no gimmicks. Circus characters make it fun for the children.
"It's evidence based, it's based on the latest scientific research using key teaching techniques."
The dad-of-two pointed out that it's getting results already and said: "The attainment figures for Newington are way above both the authority and the UK average."
Hoping to roll it out nationally, he added: "The SNP have two key targets for education: to raise attainment and to close the gap between the less able and higher achievers – SAMSON does both and this is backed up with hard evidence."
Thrilled at the level of support received so far, Neil said: "I am very lucky to have had the support from all the staff and children at Newington, especially my head teacher, Irvine Torbett. I could not have put SAMSON together without their support.
"I am also very lucky to work in a school where the children are so well behaved and hard working: success breeds success.
"The children are more confident and motivated and therefore are getting great results. "And finally Hoggett Creative have done an amazing job with the graphics.
"I would just like to thank them for all their advice and support."