Graffiti depicting the Nazi symbol and poorly spelled Is- lamic sayings was daubed on cars at McConechy's garage and on the wall at the nearby butch- ers sometime between 2.30 pm on Sunday, just hours after the of cial Armistice parade, and 7.30 am on Monday morning.
The vandalism has horri ed locals, especially those who took part in Sunday's remembrance service on Lockerbie High Street.
Annandale North Councillor Adam Wilson was among those who laid a wreath.
He said: "It is disgusting that someone on Remembrance Sun- day of all days feels that it is acceptable to graf ti swastikas over a town like Lockerbie.
"This is certainly not a rep- resentation of the people or town of Lockerbie."
He added: "The fallen that we have stood in silence for over the weekend protected us from the horrible ideology that the swastika represents.
"The people of Lockerbie, along with me, will be horri ed by this graf ti because we stand with the fallen as they gave the ultimate sacri ce to give us our freedom."
And the council's Armed Forces Champion, Cllr Archie Dryburgh, also voiced his horror and said: "To do this type of vandalism, especially on Remembrance weekend, shows the type of disrespect some have for those that gave their lives so that we can speak without fear or favour in a modern society.
"I cannot understand why someone would wish to spray paint swastikas in a town like Lockerbie. I hope that this did not detract from the Remem- brance service that took place on Sunday, but I am sure this will make people in Lockerbie angry at such mindless vandalism."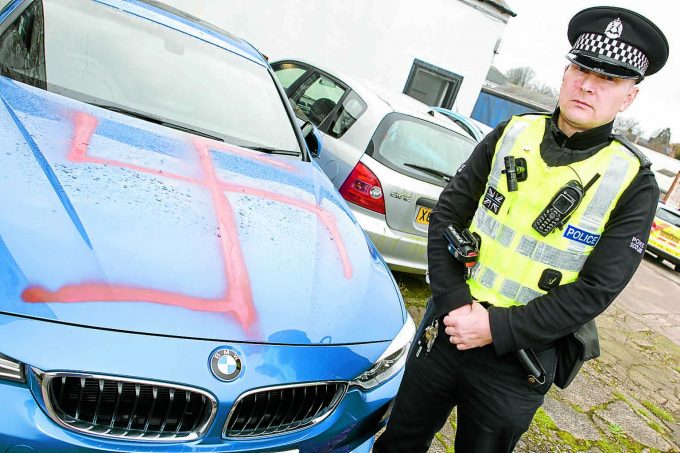 He added: "I hope that the po- lice catch who is responsible as soon as possible and that the culprit is made to pay for this. If any members of the public have any information on this I would urge them to call Police Scotland."
Meanwhile, the manager at McConechy's garage says the staff were disgusted and disappointed by the vandal attack.
Of cers in Lockerbie are investigating the crime and Con- stable David Noble said: "We are currently carrying out door to door enquiries into this crime and we appeal to anyone in the community who may have any knowledge as to who is respon- sible for this disgusting act at this time of remembrance and reection in our community, to get in touch with us at Lockerbie on the 101 number. Anyone who may have information to pass on and who wishes to remain an- onymous can call Crimestoppers on the 0800 555 111 number."