MEET ADAM . . . Adam Wilson, right, is pictured with younger brother Jack, mum Caroline, dad Martin and young sister Annie
Last week the Lochmaben lad was elected to serve the Annandale North ward, covering his home town as well as Lockerbie, Moffat and surrounding areas.
Still a student in Edinburgh, studying business management, he will start his final year in September, which will mean juggling a demanding dissertation with council duties.
But the former Member of the Scottish Youth Parliament has had his heart set on entering local politics from a young age and says he's more than up to the challenge.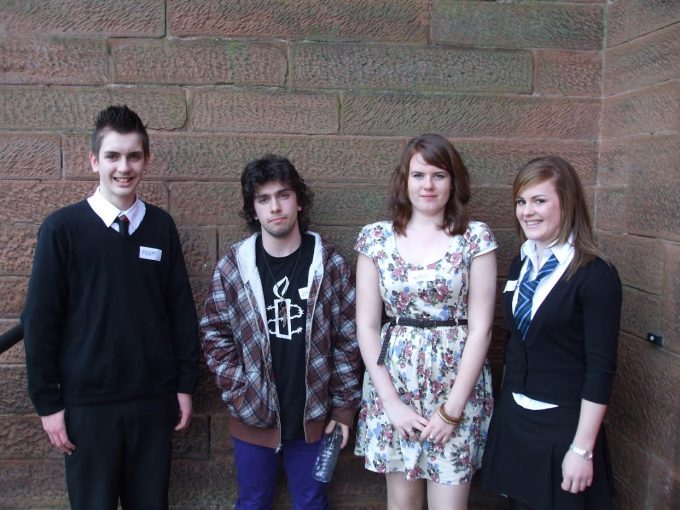 FLASH BACK . . . Adam, left, in his MSYP days 
He said: "It will be difficult but my dissertation is on an issue that politicallyIam very passionate about. That will help to keep me motivated throughout the whole time.
"I've spoken with other councillors from across Scotland who have employment or training commitments and feel confident that I will be able to have a not so stressful year."
And he believes his youth will help him connect with younger residents and transform Annandale North into a thriving area for Millennials.
He said: "There are many issues that young people face that are different from the last generation and generation before that.
"Employment opportunities have changed, for example, the loss of Chapelcross locally and manufacturing sites means that while in the past many had a job for life, the same opportunities no longer exist.
"Thanks to low pay and less job security, sometimes young people are moving between maybe three jobs in a five year period. All this makes it difficult to save towards a deposit for a house, can lead to money troubles and make futures less certain. I want to help make futures in Dumfries and Galloway brighter. "I hope to offer a fresh pair of eyes and a sounding board to how decisions can affect young people here."
But Labour lad Adam is adamant that he wants to represent the whole community, not just be a voice for younger voters.
His priorities will be fixing parking issues in Lockerbie, the lack of safe crossings in Lochmaben and Moffat and area-wide road improvements.
He said: "Once I have found my feet in the council I will meet with community groups and council officers to look at possible options to solve these issues."
Discussing his first move, he added: "I hope to fix many of the issues that people raised with me on the doorstep, like a lack of grit bins, broken glass on the street and filling serious potholes.
"I think that one of the things about being a councillor I am going to especially enjoy is being able to help people and make them even just a little bit happier."
And over the moon to have been elected, he added: "I'm not quite used to being called councillor yet but I am very excited to learn the ropes and get started.
"I am also very grateful to all those who voted for me and who supported me in the campaign. It is a great source of motivation which will carry me through the highs and lows of the next five years.
"I want to help make Annandale North a better place to live and work."
■ To contact him, email adam.wilson@dumgal.gov.uk.