Protestor Samantha Francis is the woman behind the petition. Last week her efforts saw a similar event cancelled at a church fete in Cambridgeshire after she gathered nearly 40,000 signatures.
Now she has turned her attention to the Moffat race, organised by the Moffat Promotions Group.
Urging others to sign her petition, Samantha said: "On August 13, naturally timid and quiet sheep will be made to race against each other through the streets of Moffat, Scotland, with teddy bears strapped to their backs.
"This is exploitative, degrading and frightening for the sheep, as crowds will be lining the streets, cheering and shouting. Animals are not ours to use for entertainment."
So far more than 30,000 people have signed the petition, from UK and abroad, with hundreds labelling the event 'cruel'.
But Sarah Ottewell, chair of the organising group, who also organise events such as the Christmas lights switch on, has defended the annual event. She said: "The Moffat Promotions Group always welcome feedback on their events and the sheep races is no different and we respect Samantha's petition and her views.
"Ever since the sheep races began we have always been happy to address any concerns the public may have about the event, but up until now there haven't been any issues raised."
She added: "Before starting the event up,I consulted with many experts over the safety and welfare of the animals and that will always be a priority for the organisers.
"The event is now in its sixth year and the group are pressing ahead with their preparations for another fun filled day for all the family in our wonderful town and look forward to seeing you there."
And Moffat Community Council chairman Bob Opray has pledged his support to the event, which last year attracted a crowd of 3000.
He said: "I have never heard any reports of any sheep being injured or distressed during the many years the sheep races have been held.
"The event does a lot for this town, it brings in a lot of people and I for one really appreciate the efforts of the Moffat Promotions Group and everything they do for Moffat."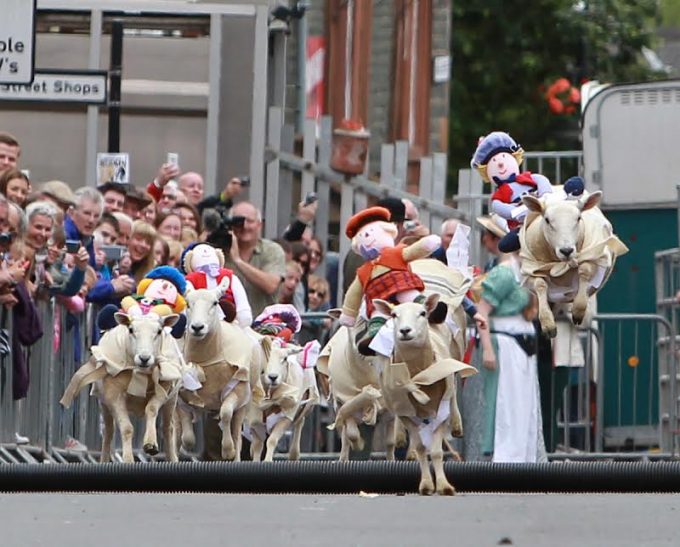 RACE . . . sheep make their way down Moffat High Street