HONOURED . . . Eileen Callander from Hightae receives a BEM
A total of 1197 people have been featured including, at least, eight recipients from the region –  Eileen Callander, Marion Murdoch, Libby Clegg, Janet Isabelle Gillespie, Lennie Bell, Kate Thomson, Juanita Wilson and Gordon Routledge.
Primary school janitor Eileen Callander, 61, from Hightae, was so shocked when she received her letter informing her of her British Empire Medal (BEM) for services to education and community that she did not know whether to believe it was real.
She said: "I was shaking like a leaf. I was so shocked that I thought it might even be a hoax. It was completely unexpected and I still don't know who nominated me."
But after the news sunk in, the mother-of-two, who also plays a key role in running Golden Years, a social group for the village's older residents, was delighted to be recognised.
Mrs Callander, who has worked at Hightae Primary for 26 years as a janitor, cleaner and caterer, added: "I am still in a daze and I haven't really told anyone, just my close family.
"I really love my job and it is such an honour to be recognised for doing something that I love so much. I'm really humbled."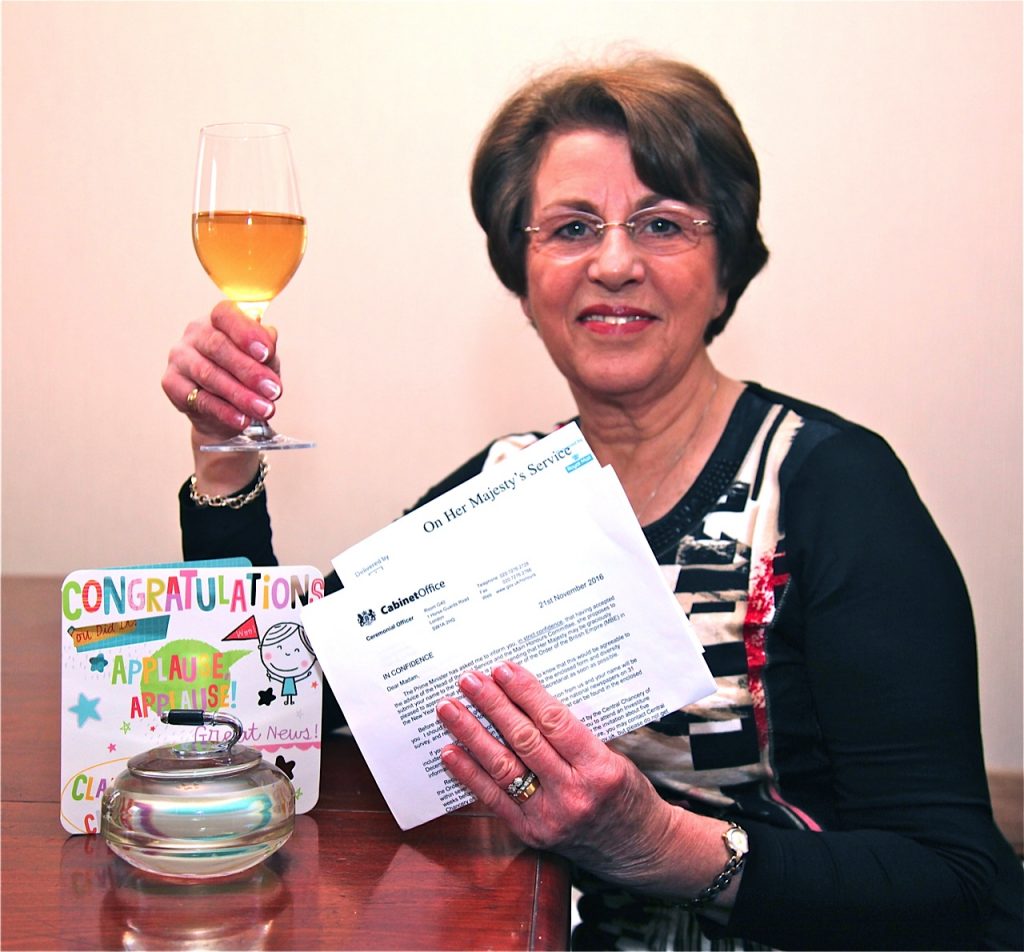 CURLING DEVELOPMENT . . . Marion Murdoch of Lockerbie receives an MBE
A leading promoter of the sport of curling, Marion Murdoch of Langhill, Lockerbie has become an MBE.
She has been involved as a coach since the 1970s and introduced hundreds of people to the sport.
For a number of years Marion has been curling development officer, based at Lockerbie Ice Rink, and is a past national president  of the Royal Caledonian Curling Club Ladies Branch.
Her son David is a double world champion and Olympic silver medalist, other son Neil, a former European champion and world silver medalist, while daughter Nancy is an Olympic coach and former Scottish champion.
As she looked through messages of congratulations, Marion commented: "It was a complete surprise. I'm absolutely delighted, but very humbled, to have received this honour.
"Being so passionate I've enjoyed encouraging so many others into the sport to experience the fun, friendships and well-being it creates."
Marion added: "My only regret is that my late husband Matt, former director of Lockerbie Ice Rink, who was deeply involved in the sport, is not here to share the honour."
Also receiving an MBE is blind athlete Libby Clegg from Newcastleton.  She has accumulated gold and silver medals after competing at three Paralympic Games, including a Gold in the 100 metres T11 final at Rio last summer.
Running with a guide, she has also won a number of other championships at national and international level.
And in Castle Douglas 94-year-old Janet Isabelle Gillespie has been awarded a BEM for Services to Charity.
Janet is one of the oldest recipients in the UK and received her honour for charitable service, having spent over 60 years volunteering for Poppy Scotland, beginning with selling poppies in 1952 and only retiring last year.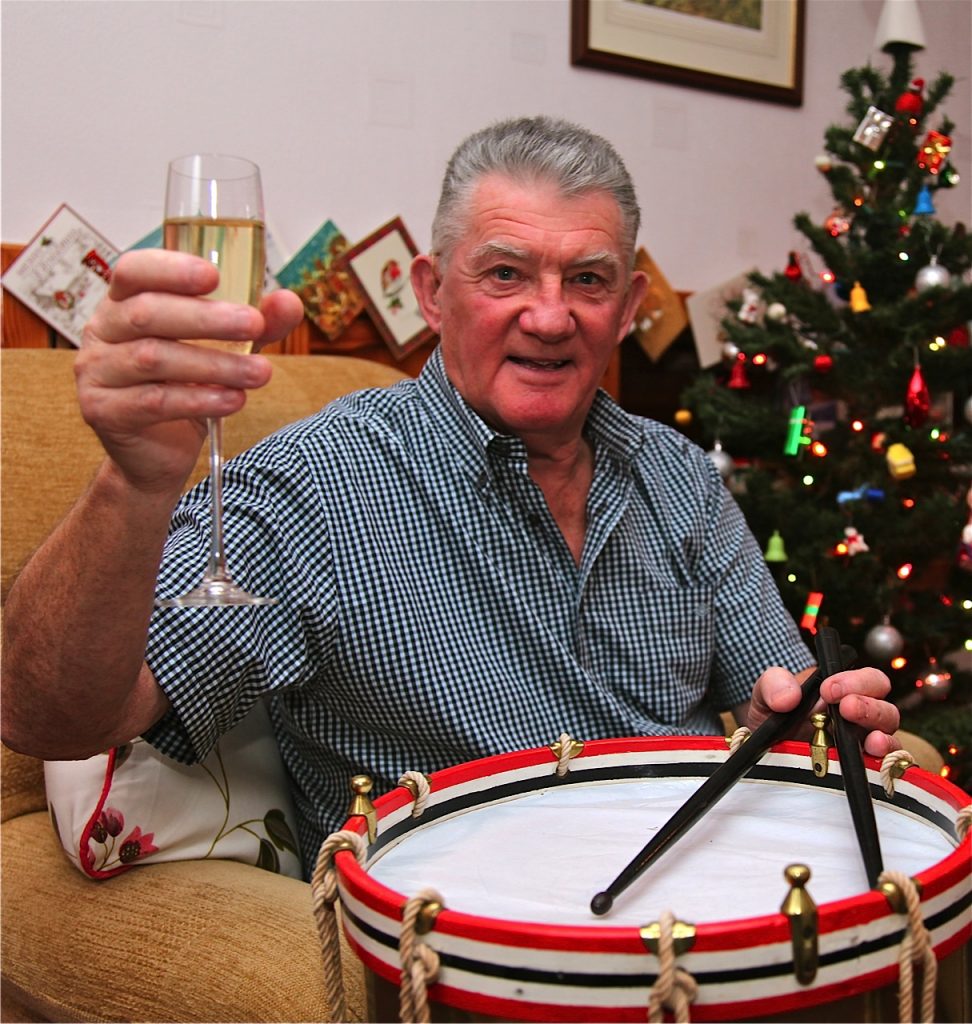 AWARD BEAT . . . Lennie Bell celebrates his BEM with a glass of  wine at his home in Langholm
Meanwhile, an amazing 63 years playing the drums in his local pipe band has resulted in 75-year-old Lennie Bell of Parliament Square in Langholm being awarded a BEM for services to music and the community in Dumfriesshire.
He started with Langholm Pipe Band as a teenager and for many years has been the Drum Sergeant. For eight years he also played with Annan Ex-Service Pipe Band during a period in which they competed at Grade Two level.
Lennie, who lives with his wife Nina, says he has enjoyed every minute with the Langholm band, which has seen him perform in the City of London Lord Mayor's Parade, Braemar Gathering and overseas in Italy, France and Denmark.
But he considers the highlight his annual appearances with the band at Langholm Common Riding, an experience he describes as 'something unique and very special.'
He said: "I've never missed a Common Riding and the only time I've not been at the Castle Craigs ride-out the week before was when I went round on horseback."
During his working life Lennie was employed at the former Reid and Taylor textile mill in Langholm for 26 years and up to his retirement at the age of 58 at the Ministry of Defence depots at Longtown and Eastriggs.
Reflecting on his BEM, he said: "I'm proud but embarrassed. I still enjoy playing very much. I've always had very good colleagues in the band and played under 12 excellent pipe majors down the years."
Lennie paid tribute to Dick Irving of Langholm, now in his mid-80s, who had taught him to drum when he was a youngster.
He added: "I could not accept an honour like this without acknowledging  the fantastic contribution made by Dick to the local bands over many years."
Receiving the Queens Police Medal is Assistant Chief Constable of Police Scotland Kate Thomson, who has completed more than 30 years service.
A native of the Dumfries area, she was previously an area commander for Dumfries and Galloway and under the old regional constabulary headed up the Criminal Investigation Department (CID).
In 2015, she took the lead role in implementing a Police Scotland drive to promote community engagement and increase focus on localism.
Other recipients from the area include animal welfare campaigner Juanita Wilson from Mossburn Farm visitor centre at Hightae, Lochmaben, who becomes an MBE  for services to vulnerable children, adults and animals while historian and author Gordon Routledge from Longtown has been awarded a BEM for services to the community.  Gordon, an Arthuret parish councillor, before retiring worked in a senior role for many years at the MoD depots at Longtown and Eastriggs.
FULL honours list round-up in next week's Annandale Observer, Moffat News, Annandale Herald and Dumfries Courier. 
NEWSDESK: 01461-202417